Published every Wednesday, The Weekly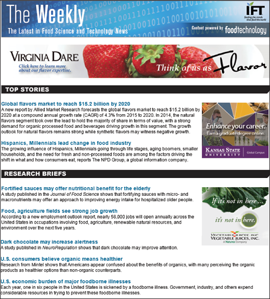 Newsletter delivers the latest in food science and technology news from the editors of IFT's Food Technology magazine. Join 35,000+ other subscribers in recieving a timely news on food regulations, nutrition, food safety, scientific research, food company acquisitions, and IFT and member activities.
As a subscriber to this free newsletter, you'll gain access to:
Major developments within the food industry
The latest research and trend reports on the CPG, foodservice, and culinary segments
Happenings at the companies servicing the food and beverage marketplace
Global regulatory updates impacting the industry, including bill proposals and product recalls
Subscribe to The Weekly Newsletter to keep up-to-date on the food and beverage industry so you can apply this insight to your company's initiatives.