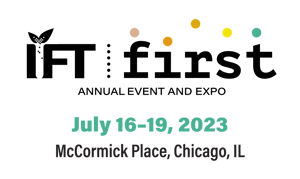 Join us July 15th or 16th
8:00 a.m. - 4:30 p.m.
Hyatt Regency Chicago

Use the above registration link if you only plan to register for this short course and will not be attending IFT FIRST.
If you plan on attending any short course (July 15-16) and IFT FIRST (July 16-19), please register here.
Course Overview:
Learn the basic principles of food science and equip yourself with an enhanced understanding of the role of food science in the development of food products. Gain a better understanding of the importance of food safety, basic regulatory issues and food science trends.

Learning Objectives:
Better understand the field and processes involved with food science, and develop a common vernacular
Identify ways food science impacts and supports various aspects of non-scientific work
Identify trends in food science

Full agenda coming soon!