Anyone up for Experiential Learning With Chocolate?
The Aggie Chocolate Factory (ACF) in the College of Agriculture and Applied Sciences is a unique feature of the Food Sciences program at Utah State University. The ACF opened for students in 2018 as a world class teaching facility to complement lecture material for a chocolate course called "Chocolate: Science, history, and society". The facility was created for students as a direct result of their interest and demand for hands-on experiential learning. Over 150 students per year now receive training at the Aggie Chocolate Factory.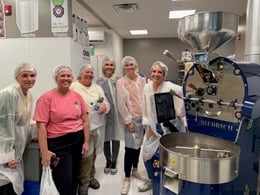 Over the course of one semester students participate in five two-hour laboratory sessions where they learn the complete process of manufacturing chocolate from bean-to-bar. The Aggie Chocolate Factory is equipped with modern equipment found in bean-to-bar chocolate factories such as roasters, winnowing machines, 2-roll refiners, melangers, batch and continuous tempering units with depositors, melting units, enrobing units, cocoa presses, and Finn Coaters.
USU students greatly appreciate the tremendous support for the program provided by leading members of the confectionery industry. Much equipment such as a DTG Finn Coater, Tricor Temper Meter, bench top crackers and winnowing machines, and raw materials have been donated to the ACF by Olam Food Ingredients, Diary West, Barry Callebaut, Nestle, Hershey, and AAK.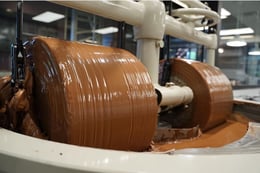 The Aggie Chocolate Factory specializes in manufacturing 70% cacao – 30% cane sugar single origin chocolate from specialty cocoa beans. This simple two ingredient recipe is the ideal ratio for expressing the unique flavor attributes of cocoa beans from different origins around the world. A minimum of four origins are manufactured and stocked at any one time. In addition, the ACF produces milk chocolate, white chocolate, compound chocolate, and other cocoa products such as hot chocolate mix, cocoa nibs, cocoa powder, chocolate coated peanuts, almonds, cranberries, and raisins.