Food Science for Relief and Development (FSRD) is the application of food science and technology to enhance food security, health, and economic prosperity for global humanitarian and development purposes.
Food-related aid has traditionally centered on humanitarian crises, agriculture in development, and nutrition. These are critically important areas for addressing food and nutrition insecurity, but FSRD seeks to create a more comprehensive food system that would allow food science to connect and enhance all three areas. FSRD can be utilized in both acute and chronic aid situations, and incorporates long-term sustainability and food options that are precisely fit for their purpose.
Justification
One of the United Nations' Sustainable Development Goals (SDG) is Zero Hunger, with a target date of 2030. The aim of the goal is to end hunger on a global scale and ensure all people have access to sufficient, safe, and nutritious food all year round - in other words, food and nutrition security.
Unfortunately, since 2015 the number of people who go hungry has been increasing. Currently, 821 million people are undernourished and 135 million people are experiencing a crisis level of food and nutrition security. If current trends continue over 840 million people will be undernourished by 2030. Additionally, the effects of the COVID-19 pandemic are expected to put an additional 130 million people on the brink of acute hunger.
To help reverse these trends, principles of food science should be utilized in the fight against food and nutrition insecurity. In fact, the United Nations highlights the importance of science, technology, and innovation in ensuring food security in their 2017 report by the Economic and Social Council.
According to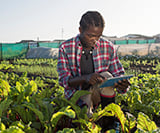 the Food and Agriculture Organization, there are four dimensions of food nutrition and security: food availability, access to food, food utilization, and food stability. The principles of food science and technology encompass each of these four areas yet, to date, have not been adequately employed.
Key Points
FSRD's holistic and inclusive methodology includes the following features:
Emphasizes long-term development approaches to include prevention, relief, improvement and rehabilitation
Implemented in consultation with local communities and other partners
Utilizes locally sourced materials and resources
Employs culturally appropriate and innovative food solutions
Human-centered
Economically and technically feasible
Sustainable
Useful in both long-term development and emergency relief situations
FSRD implementation is multidisciplinary, involving experts in nutrition, product development, food safety, compliance, process engineering and quality control. It also encourages partnerships with governments, the private sector, donors, NGOs, academia and other organizations. In addition, the design and execution of FSRD projects requires the involvement of the intended beneficiaries, particularly women.

FSRD Teams
Communications Team
Objective: Using information from various sources (including the other teams) to develop communication materials that increase awareness and understanding of the benefits of FSRD in the food and international development industries. Encourage development organizations to incorporate humanitarian food science and technology (HFST) in food security and emergency food programs.
Global Project Team
Objective: Work with global food-related professional organizations and other institutions that may wish to support FSRD activities and programs in their countries. Provide support and help coordinate their campaigns.
Case Studies Team
Objective: Collect, document, and write up existing recent real-world projects that have resulted in improved food security, enhanced nutrition, economic empowerment, or other benefits through food science and technology.

Get Involved!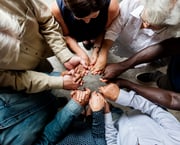 The FSRD program is continually seeking a diverse group of IFT member volunteers from around the world to participate in the teams above. Please note that you must be a paid-up IFT member to be on a team.
If you're not a member you can join here.
For more information or to volunteer for a team contact Donna Rosa at donna@donnamrosa.com

FAQs
Can I volunteer for any of the teams?
Yes, you can volunteer in your area of interest. Our ongoing need is for volunteers to write up case studies. If you're interested in one of the other teams, please contact Donna Rosa and we will find a spot for you. For all the teams we do ask that you be diligent and participate as expected.
Do I have to be an IFT member to get involved with FSRD?
Yes, as this is an IFT sponsored initiative. We also encourage volunteers to join the International Division for a more complete perspective on the program. There is no charge for IFT members to join the division.
Do I need to have food technology/related background to get involved with FSRD?
Although it may be helpful, we welcome anyone who is passionate about the potential of FSRD and willing to contribute their time. In fact, we value communication, marketing PR, writing, sales, and organizational skills.
How do the FSRD teams work?
Each team meets virtually over Zoom, and the team leader organizes the calls. The frequency depends on the activities, but is about once a month or every two months.
What are the benefits of participating in FSRD?
You'll learn all about the use and potential of food science to help those in need, and have a ground-level opportunity to contribute to this new and emerging field. Volunteers can also network with others from around the world who are passionate about FSRD.
Other questions? Contact Donna Rosa at donna@donnamrosa.com