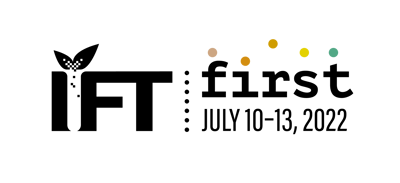 IFT is excited to offer the Research Promotion opportunity at IFT FIRST focused on the theme: Hacking the Food Supply: Can We Synthesize a More Sustainable Future?
This opportunity is open to pre-tenure faculty members, recent PhD graduates, post-docs, and grant project awardees with the objective of promoting up-and-coming research and celebrating their work and accomplishments!
Accepted applicants will be given the opportunity to present their work as part of the IFT FIRST hybrid experience, which will include an on-demand presentation and the opportunity to present in-person in Chicago, IL (exact time TBD).
Eligibility: Must be a professional IFT member.
Deadline: Submit this form before February 7, 2022 at 11:59 pm CST.
Status of your submission will be announced February 28, 2022.
Peer Nomination: Do you have a peer that has displayed exemplary work or has made a significant contribution in the academic field? Now you have a way to say thank you! Submit their name to be consider for this opportunity. Click here to get started.
Questions: Contact IFT staff at amsp@ift.org.
If your government research grant requires formal approval by IFT, please reach out to IFT staff for assistance