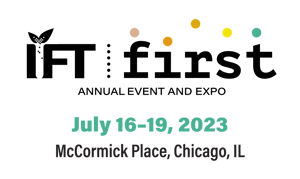 Join us July 15th or 16th
8:00 a.m. - 4:30 p.m.
Hyatt Regency Chicago

Use the above registration link if you only plan to register for this short course and will not be attending IFT FIRST.
If you plan on attending any short course (July 15-16) and IFT FIRST (July 16-19), please register here.
Course Overview:
A "crash course" in all eight content areas covered on the exam, this course brings in experts from academia and industry to go over the key topics and concepts in their respective content area and share real-life examples to help attendees understand the application of the concepts. A resource for CFS candidates with various backgrounds and from many countries, this course attracts a broad audience of professionals looking to enhance their knowledge and demonstrate their understanding of the wide area of food science.

The course reviews the eight content areas covered on the CFS Exam:
1. Sensory Evaluation & Consumer Testing
2. Food Microbiology
3. Food Safety
4. Food Engineering
5. Food Chemistry and Food Analysis
6. Quality Assurance & Quality Control
7. Regulatory
8. Product Development
Full agenda coming soon!