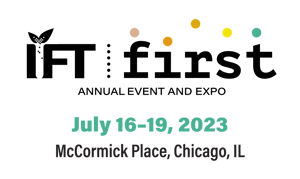 Join us July 15th or 16th
8:00 a.m. - 4:30 p.m.
Hyatt Regency Chicago

Use the above registration link if you only plan to register for this short course and will not be attending IFT FIRST.
If you plan on attending any short course (July 15-16) and IFT FIRST (July 16-19), please register here.
Course Overview:
There is growing consumer appetite for plant-based food due to a myriad of factors, including health, environmental sustainability, and personal beliefs. A number of novel plant proteins are developed and commercialized. In addition to that, the industry is also finding ways to recover valuable protein streams from traditional by-/co-products and upcycling them back into functional and nutritional protein ingredients.
These new ingredient innovations enable product developers and research scientists to launch a variety of plant-based products. During this course, we will explore plant proteins from novel and upcycled sources, discussing their properties, functionalities, and applications across multiple food and beverage categories.

Attendees will:
Examine fundamental functional properties of different plant proteins as well as their applications in different food products
Gain a deeper sense of the discoveries and processing methods that allows the commercialization of these protein ingredients and their behaviors (solubility, gelling, foaming, binding, etc.) in different environments and food types
Apply your learning in activities and network with other participants.


Full agenda coming soon!